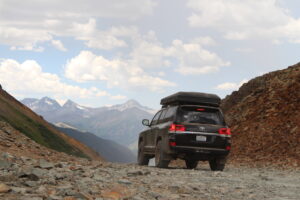 Fort's Trail Team emerged from a conversation around a campfire a few years ago in Colorado.  Wouldn't it be great to share the experiences of taking stock Toyota trucks to amazing places all over the United States?
Fort's Trail Team want to emphasize that a stock Toyota truck can go almost anywhere!  Its never our game to say giant lifts and a million bucks in gear will make it more fun.  Toyota makes a great series of trucks that come with all the equipment you need to go from one end of this country to the other on the un-paved roads!
When we do modifications, we have connections for gear as we are sponsored by Fort's Toyota of Pekin. Their parts department offers world class equipment from ARB, ICON Vehicle Dynamics and dozens of other vendors.
Trail Team does frequent the local offroad parks and events. This is great practice for a Toyota Land Cruiser Association (TLCA) event we are planning on travelling too.  TLCA puts on amazing Toyota-Centric trail rides and gatherings all over the country.  During the summer months it seems like they have one going on every weekend.